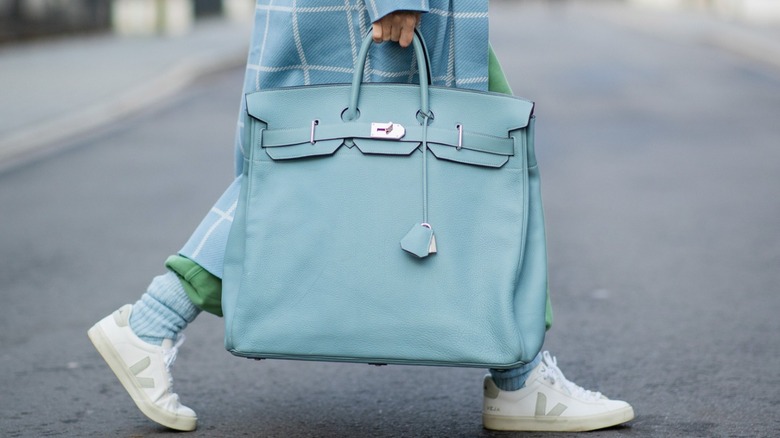 If you know a thing or two about fashion, or are a huge "Gilmore Girls" fan, you have probably heard of the luxury goods manufacturer Hermès — pronounced "air-mez" (you can thank us later). The French brand, which was founded in Paris in 1837, is often conflated with upper-crust living and considered to be a true symbol of opulence.
Now you may be asking yourself why. The answer, in part, is because of its rich history dressing the elite. Since its conception, larger-than-life celebs have rocked Hermès, including style icons such as supermodel Kate Moss and former first lady Jacqueline Kennedy Onassis. Today, you can see celebrities like Cardi B, Kylie Jenner, and Drake flaunting the brand. Drake even rapped on his 2020 hit "Demons," "This Hermès from runway, this ain't Ralph Lauren," (no shade to Ralph Lauren).
Another reason the accessory giant is so revered is because of its equally giant price tags. Your basic Hermès bag can start anywhere from $2,000 to $4,000 (the key word here being average). Their two most exclusive pieces — the Birkin bag and Kelly bag — usually cost upwards of $40,000, and can cost as much as $400,000. Needless to say, your average Joe is not purchasing these items. However, if you are someone who can afford these (and also does not mind waiting years on the waitlist), or you are just curious, here are the differences between the two most coveted purses on the planet.
The Birkin Bag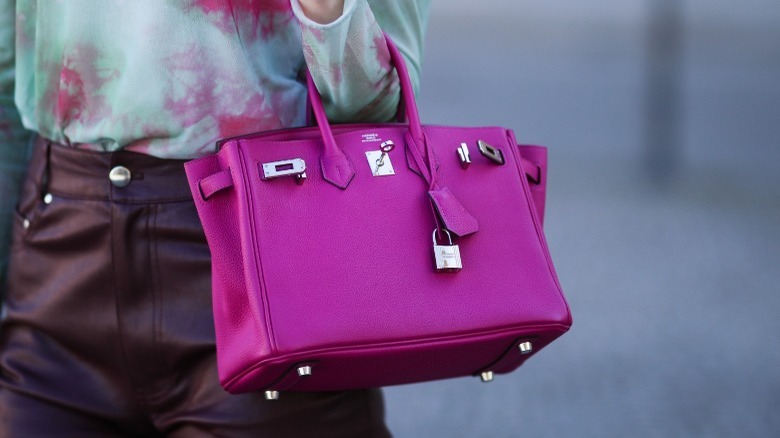 The Birkin bag was introduced to the world in 1983 after Hermès chief executive Jean-Louis Dumas was seated on a flight next to Jane Birkin, a prominent English actor at the time, according to Business Insider. Birkin's things had just fallen out of her straw purse from the overhead compartment when she expressed discontent for the bags on the market. Dumas and Birkin then spent the remainder of their flight sketching ideas for a new leather purse. A year later, the Birkin bag was born.
Since then, Hermès has produced a limited quantity of Birkins, which has increased not only the value of the purses — a 2017 study showed a price increase of 500% in the last 35 years — but also the demand.
The price of a Birkin usually ranges from $11,000 to $300,000 depending on the type of material (calf, alligator, or ostrich skin) used and the size. The most expensive Birkin bag, which was inspired by the snowcapped Himalayas and featured 18k white gold and diamond hardware, sold for or £236,750 GDP or $325,000 USD at a Christies auction in London, according to Christies.
Currently, a Birkin bag comes in three available sizes: 25 cm, 30 cm, and 35 cm, per Celebre Magazine. Each handmade purse features two short handles at the top that allows one to carry it in the crook of their arm. The bag is also often rocked undone, like an immensely expensive tote.
The Kelly Bag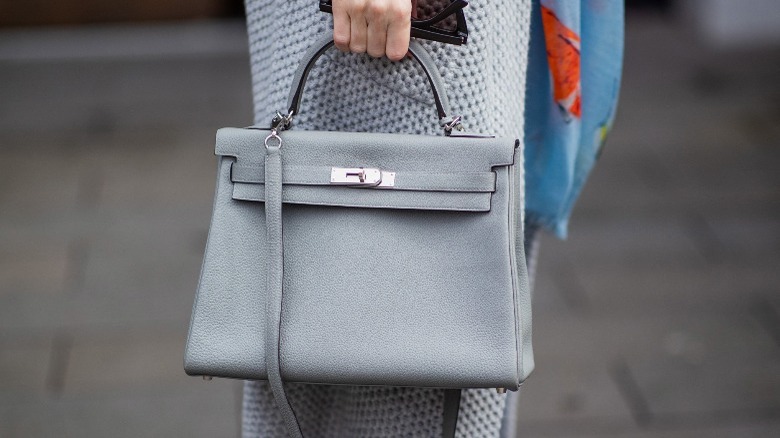 The Kelly bag (formerly known as the Sac à dépêches) is older than the Birkin bag, as it was created in 1923. However, it was redesigned and relaunched a few times before finally being named after the American actor Princess Grace Kelly of Monaco in 1977, per Celebre Magazine. Princess Grace popularized the purse after she landed a Life Magazine cover which depicted her using the large bag to hide her pregnant belly from the paparazzi.
Unlike the Birkin, the Kelly bag comes in six different sizes: 25 cm, 28 cm, 32 cm, 35 cm, 40 cm, and 50 cm. The Kelly also only has one top handle, plus a shoulder strap, allowing one to wear it on their arm or crossbody. Furthermore, the Kelly has a more secure closure system than the Birkin, as it requires the flap to be closed, which some say makes for a more elegant appearance. According to CodoGirl, the average Kelly bag ranges from $9,000 to $40,000 in prices, making it slightly cheaper than its Birkin alternative (relatively speaking, of course).
Besides those obvious differences, the Birkin seems to be more of an everyday "Hi, I'm rich!" purse, while the Kelly is an "I'm attending lunch with the queen, I need to pull out the big fashion guns" purse.