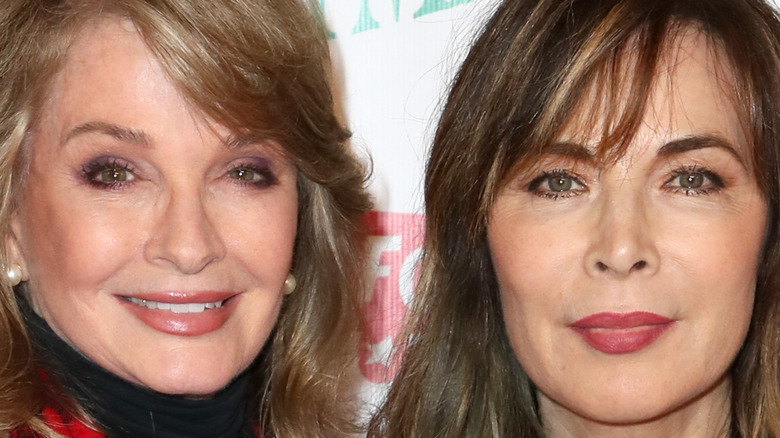 "Days of Our Lives" fans have learned to expect the unexpected when it comes to the soap opera. It seems that nothing is impossible in Salem, and many of the characters have been through some wild and crazy storylines during their time on the show. Over the decades, viewers have witnessed some of the most memorable plot twists in soap history, such as Marlena Evans (Deidre Hall) being possessed by the devil on more than one occasion. Marlena was also at the center of one of the sudser's biggest storylines when she was revealed to be a serial killer dubbed the Salem Stalker, who seemingly killed beloved characters like Alice Horton, Roman Brady, Maggie Horton, Abe Carver, and many more (via Entertainment Weekly). However, they were all later revealed to be alive and living on a remote island called Melaswen as the result of a DiMera family scheme.
Other memorable moments from the show include Carly Manning being buried alive and tortured by villainess Vivian Alamain and twins believed to be aliens from outer space showing up in Salem unexplained, per Soaps. Of course, many characters have surprisingly risen from the dead to create some iconic moments as well. In addition, many characters have been brainwashed, like the time that Steve Johnson believed himself to be Salem's biggest villain, Stefano DiMera.
Now, three of the show's leading ladies are taking a hilarious trip down memory lane as they attempt to remember their character's best moments.
Fun and games in Salem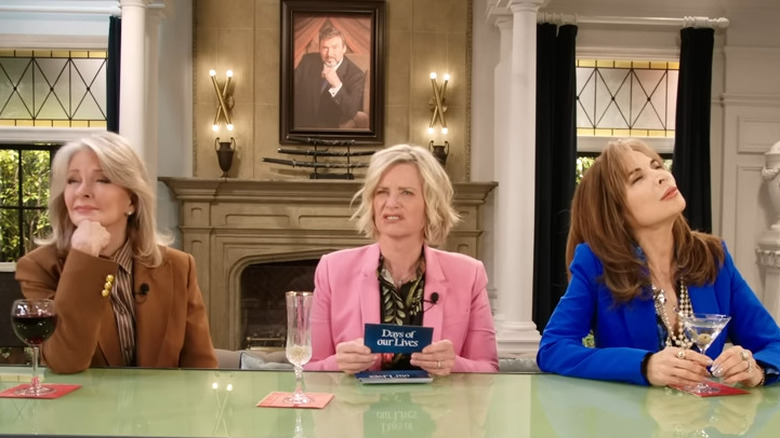 "Days of Our Lives" fan favorites Deidre Hall, Mary Beth Evans, and Lauren Koslow sat down to play a hilarious game of "Never Have I Ever" together, which was filmed for the show's YouTube channel – and the results were priceless. The trio read statements out loud, and if they pertained to their characters, the women would take a drink of their alcoholic beverage. They reminisced about some of their old storylines and admitted that they can't always remember things such as who all or their children are, if they've ever been in a coma, or how many times they've been married on the show.
The women laughed together as they tried to recall the details of their characters' dramatic lives in Salem. Evans, who plays Dr. Kayla Brady Johnson on the sudser, also admitted that her character seems to be a jack of all trades, performing organ transplants, taking microchips out of brains, and delivering babies. However, she did reveal that the Salem hospital is terrible when it comes to security, as many test results have been switched and altered over the years (via Soaps). For her part, Evans was also forced to drink when the subject of being romantically involved with two brothers came up, as her character has been married to brothers Jack Deveraux and Steve Johnson during her time in Salem.
The three actresses seemingly had a great time trying to remember their characters' pasts, and fans loved every minute of the fun game.