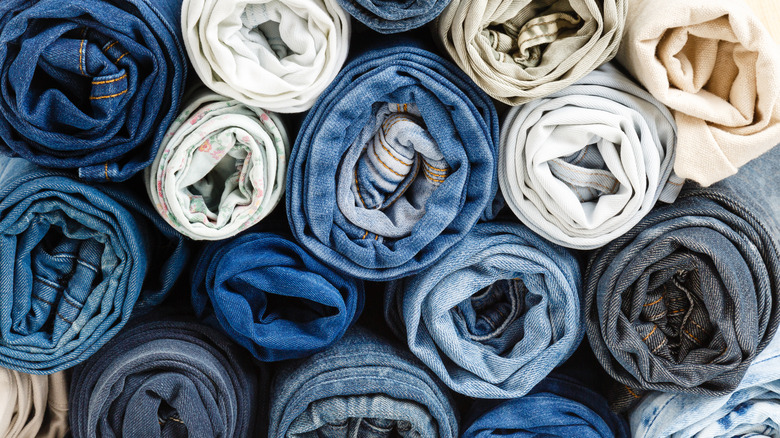 Denim trends change just about every decade. In the 2010s, skinny jeans took over, and now in the 2020s, we have seen more relaxed fit styles become popular. However, there's one aspect regarding jeans that tends to stay the same even as trending styles change – the wash of the jeans. While we've gone from daring hip-huggers to snatched high-waist styles, and from form-fitting jeggings to comfy wide-leg jeans, blue denim, itself, has never gone out of fashion (per Business Insider).
The blue coloring comes from indigo dye, which was used when jeans were first created centuries ago. The indigo dye was used to color the denim material for its unique ability to coat the surface of the cotton fibers when heated, while other dyes go through the whole fiber (via Slate). The end result is a classic pair of jeans that fade naturally over time as they are worn and washed. These days, we not only have dark indigo washes, but we also have medium washes, light washes, distressed washes, acid washes, and even colored denim.
If you're wondering what the most stylish wash is out of all of the different options, The List conducted a survey of 573 people and asked them which wash or color of jeans is their favorite. The answer is a classic color that you might just agree with.
Dark denim dominates over other washes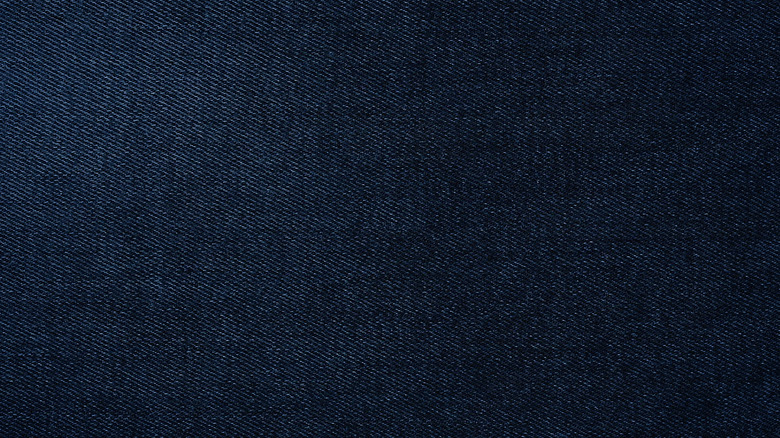 Our survey found that over 35% of people prefer dark wash denim, making it the most popular denim wash — and we're not surprised by the results. The versatile wash flatters all body types, and can especially help give a slimming, streamlined look for people with more petite, curvy figures (via Petite Dressing). Dark wash denim can also give a more formal, put-together appearance, making it perfect for those casual Fridays at work, according to First Cry Parenting. However, if you want to dress down dark jeans, you can easily do so by pairing them with a clean white t-shirt.
According to Rivet, dark wash denim is especially popular on both U.S. coasts, with Oregon, California, Illinois, and Maryland residents searching for dark jeans the most. Meanwhile, New York residents were looking for both light and dark wash denim. Light wash was the second-most popular response in our survey with 34.55% of people saying they prefer light wash jeans. Distressed and white jeans were the least popular options, together garnering 15% of the vote.
How to style dark-wash jeans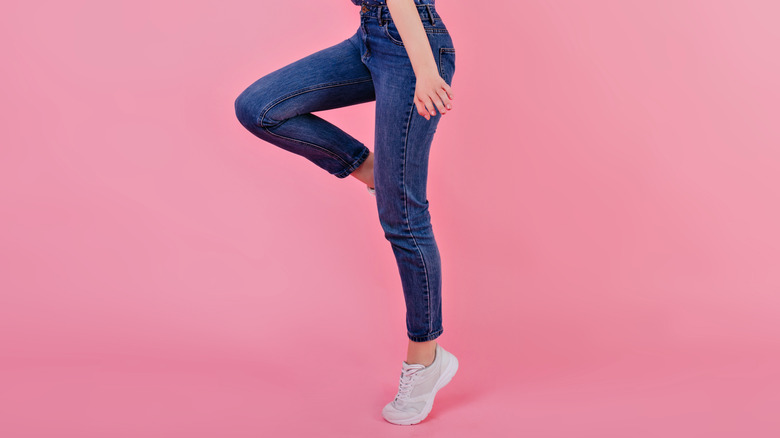 If you want to join the dark (denim) side, the good news is that it's relatively simple to style dark wash jeans. The easiest way to incorporate dark jeans into your wardrobe is to wear them to work if you work in a business casual environment. Fashionbeans recommends pairing dark wash jeans with a blazer for a "smart-casual" hybrid look. This is easily a look that can go from your desk job to happy hour at the bar.
Blouses in neutral tones, silky floral tops, and halter necks are fun ways to spice up your dark jeans for a first date, per ThreadUp. For an even more sophisticated look, a pair of stilettos can help this date night look really come together. On the other hand, pairing a pair of dark wash jeans with a t-shirt and sneakers in a statement color can dress down your denim for a fun day of shopping with your best friend.
While virtually any color top can go well with dark denim, light-toned neutrals and primary colors will especially pop against a darker wash (per Fashionbeans). Who What Wear suggests wearing dark jeans with high-octane jewel tone colored tops. The high-contrast pairing of a red top paired with dark denim will especially make you a stand-out, while golden mustard can perk up an ultra-dark indigo wash. Now that you know how to wear the timeless, popular denim color, go ahead and join the dark wash bandwagon.