The choices can be overwhelming when you enter the salon to get your nails done. The number of nail color swatches alone can be a lot to sort through. Suddenly, all the questions start popping into your head: What color best matches my skin tone? What nail shape suits me best? Should I ditch this trip, head to the nearest store, and just use nail stickers? A trip to the nail salon that started as a way to treat yourself becomes the cause of decision fatigue.
As a new season arrives, so do new trends. With the advent of social media, trends are cycling so fast that it's hard to keep up. Before you know it, one look is in and another is out. But don't fret. To make that next nail appointment a breeze, we've rounded up the nail art trends we predict everyone will be asking for this winter season. In this list, we have no-fail compliment magnets for all the events you attend during the holidays. From the ever-reliable elegant red to a minimalistic take on holiday-inspired candy cane nail art.
Glitter tips to embrace the festive season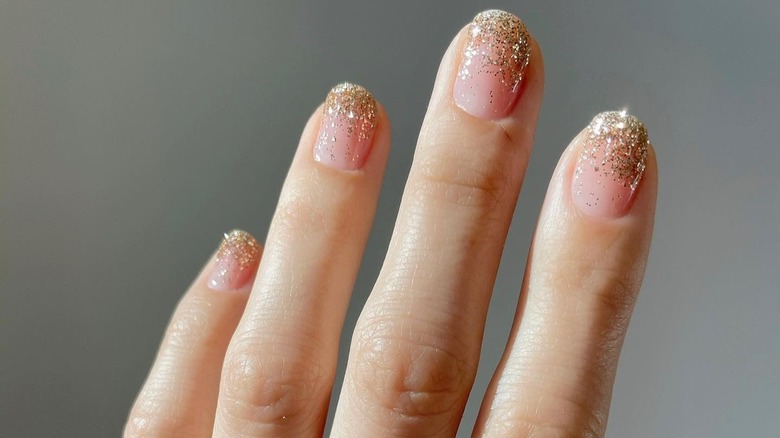 Glitter is a staple in nail art that isn't going anywhere any time soon. Though glitter can look a bit tacky in some cases, especially when overdone, t can be the perfect accent to your manicure when done correctly. Glitter tips are a great way to add some sparkle to your nails without sacrificing a refined and mature appearance (via Glamour). Instead of going for a French manicure with the usual white tips, swap the white polish out for the glitter polish of your choice.
Another thing we love about this trend is that it goes with almost any color, and it adds that extra oomph to an otherwise plain look. It doesn't have to be all up in your face, either. Take Bettina Goldstein's approach, for example. The Chanel nail artist added a touch of gold glitter to a neutral nail look — and the outcome emanates a subtle elegance that is worth rocking until the New Year. If you're more into silver than gold, you can certainly go for glittery, silvery tips instead.
Unleash your inner Bey with these renaissance nails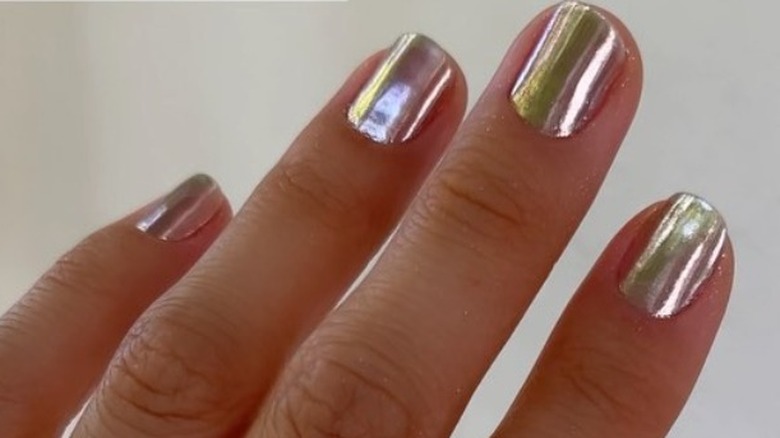 Renaissance nails came from none other than Queen Bey herself. Chanel nail artist Bettina Goldstein created a Beyoncé-inspired manicure, taking cues from the horse in Beyoncé's 2022 "Renaissance" album art. Goldstein generously shared two tutorials – one with gel polish and one with regular nail polish – on her Instagram page to help DIYers achieve the look.
Renaissance nails are a more subtle approach to the popular silver chrome nails, also known as "mirror nails." Lila Robles, a Los Angeles-based nail artist, expressed the nostalgic 2000s quality of the chrome nails with Allure, saying, "Chrome is a moment that makes me think of CDs." Any would could be more symbolic of the early aughts than CDs?
Whether you'd like to try out these nails as an ode to Beyoncé (or Beyoncé's horse) or to take yourself back to the Y2K era, you really can't go wrong with metallic nails this winter.
Swirl nails are here to stay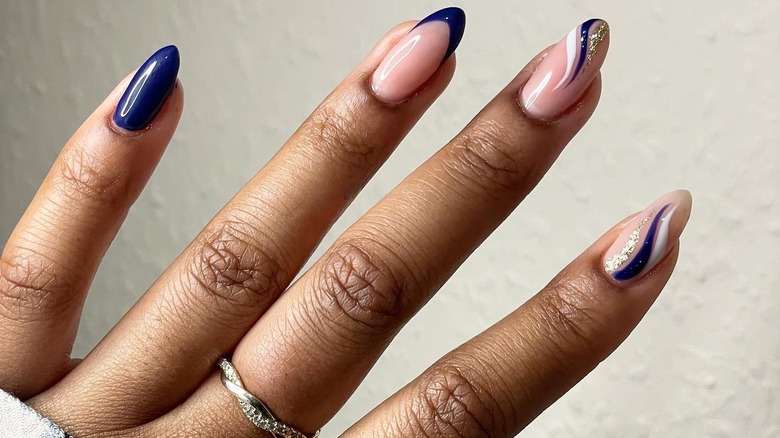 It isn't difficult to understand the appeal of swirl nails. According to PopSugar, it became one of the biggest trends of 2022. This look is as aesthetically pleasing as it is versatile — you have myriad color combinations at your disposal. You can choose to play according to your mood or the season. And according to Byrdie, even though the swirl nail appears to be complicated, you can do it in the comfort of your own home if you have the right tools. It works on any nail length, too, so you don't need to get nail extensions to pull off this look.
In the winter, you can't go wrong with hues of icy blue or emerald green. You can also add some glitter for effect. Want to take it into a more festive territory? Red, green, and silver combinations are worth considering. If you want to play it safe with a color combination for all seasons, go for the quintessential cappuccino-hued brown swirl with a hint of white. You can also make use of negative space if you want something more understated.
You can't go wrong with glazed donut nails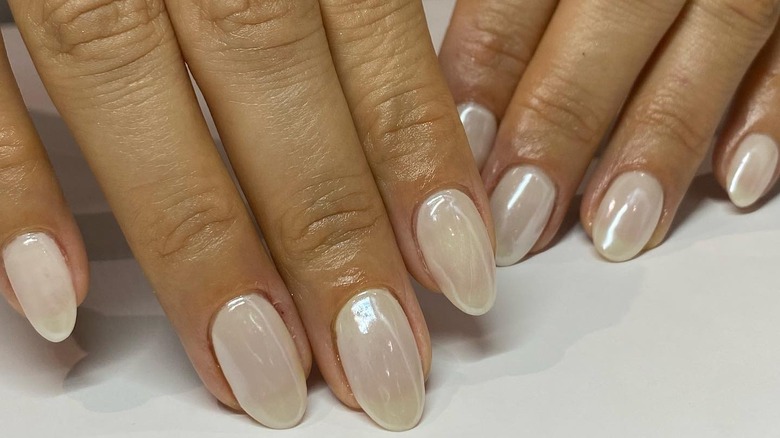 At this point, everyone and their mother has probably tried — or at the very least heard of — glazed donut nails (aka glazed chrome nails). No matter what you call it, we can all agree on how universally flattering this manicure is. It's no wonder the glazed donut nails have such a huge following. "Since it's really neutral, minimalist and chic, I can definitely see that these nails will be around," nail artist Zola Ganzorigt shared with CNN in 2022.
Like any popular nail trend, it morphs and takes on different forms. Among the many variations seen since the original glazed donut, two counterparts are worth noting for the wintertime. Since it's chillier outside, why not opt to bring some warmth into your look with chocolate-glazed donut nails? If you want to stay true to the wintertime vibe, though, you can opt for an icier look with chrome gray donut nails.
Keep them guessing with your peekaboo nails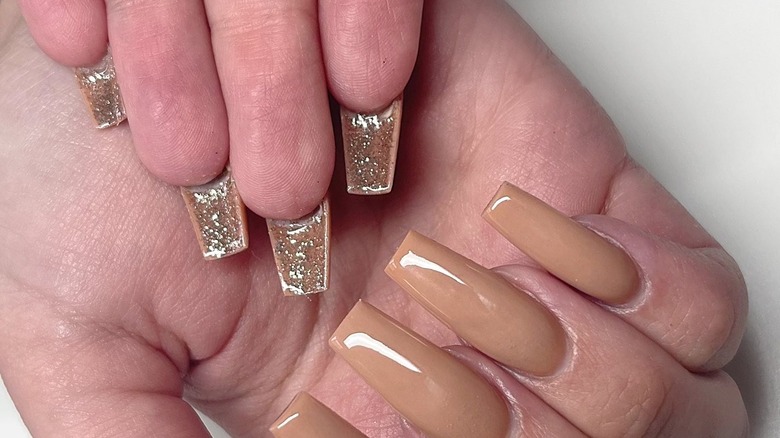 Peekaboo nails gained traction after being spotted at the Maisie Wilen Spring/Summer 2023 New York Fashion Week show (via StyleCaster). The models made their way down the runway with colorful accent colors painted on the underside of their nails. These manicures were created in collaboration with Aprés Nail by Sojin Oh, also known as Soji Nails. Oh, a renowned nail artist recognized for her experimental takes on nail art, has definitely made a name for herself among celebrities. She boasts an impressive roster that includes stars such as Lil Nas X, Kim Kardashian, and Rina Sawayama, according to The Zoe Report.
A similar concept became a trend in 2014 and was used to maximize nail real estate by applying another color under the nail. At the time, it was known as the Louboutin manicure, named after the famous Louboutin red-soled stilettos, and called for a black or nude nail base with a red pop of color underneath.
With peekaboo nails, you aren't confined to just the Louboutin red. You can opt for any color you feel like using. If you aren't shy about a bit of shine, go for glitter.
Keep it classy with an elegant red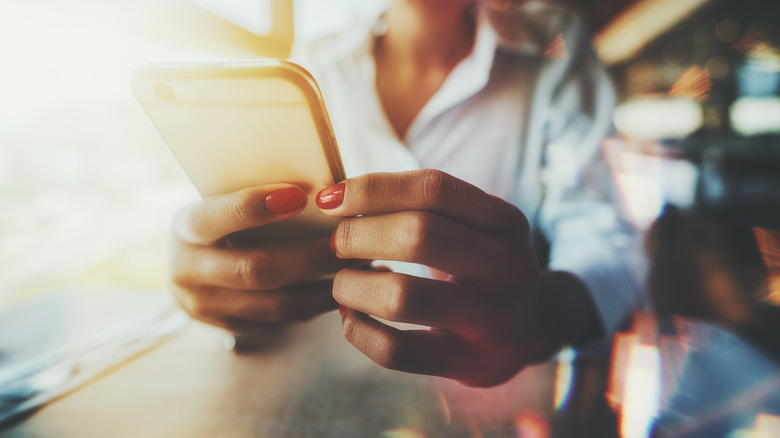 We all know the power of color to tell a story. In the case of the red nail, it's definitely one of those unbeatable classics. Aside from being a color that gets people's attention, it's a color that suggests confidence, according to Orly.
In recent years, other theories have come to light to explain the resurgence of the classic color in popular culture. If you're on BeautyTok, you've probably also encountered the red nail theory that went viral in early 2022. A TikTok user noticed that a lot of men would give her compliments when her nails were painted red, which surprised her because she believed it to be a "grandma color." While mulling it over, her mind went into Freudian territory. She hypothesized that men are attracted to the color because it reminds them of their mothers. TikTok reactions were mixed in terms of the theory's accuracy, but it went viral enough for a slew of people to try on their chosen shade of red for themselves, regardless of whether or not they hoped to draw the attention of any men.
Theories aside, you can't go wrong with a nice bright shade of red in the gloom of winter (via The Zoe Report).
Revive a Roaring Twenties staple with the moon manicure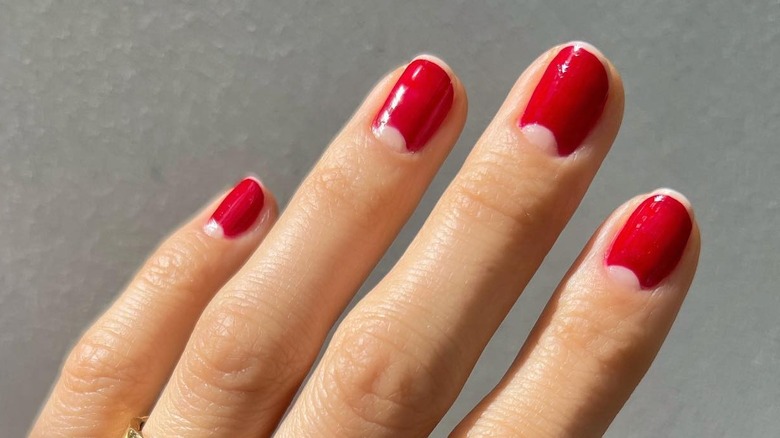 From the 1920s to the 1940s, the moon manicure — also known as the half-moon manicure — was extremely popular. It all began with the joint venture of Michelle Ménard, a French makeup artist, and Revlon (which was then known as the Charles Revson Company) to produce and launch their first product: nail polish (via Smithsonian Magazine).
Revlon propelled nail polish into the mainstream, with prominent Hollywood figures such as Joan Crawford sporting the moon manicure look. "The minute there was nail polish, there was nail art," nail artist Miss Pop told Mashable. "Revlon red came out and the half moon was happening."
This nail look is a great option for someone looking to switch up their nail look with little effort. The moon manicure leaves both the tip and crescent of the nail bare, only adding color to the middle of the nail. Another great thing about the moon manicure is that you don't have to worry about your nails growing out because of the bare space near the cuticle. But if you aren't feeling the negative space, you can use it to add another pop of color.
Chilly ice nails to match the cold weather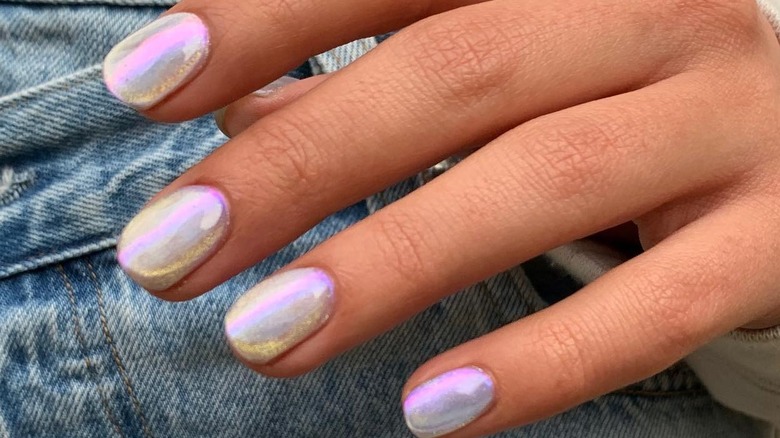 Set yourself apart by bringing back a 2021 nail trend called ice nails — a name that's completely apt for the wintertime. Ice nails, or Aurora nails as they are also called, is a great way to get an iridescent glow on your fingernails. Plus, it's a really good look for anyone who wants more dimension in their nail art.
Due to the layering that this look entails, it can be a bit tricky to execute on your own. According to Glamour, you'll probably need the assistance of a professional to get this one right. And even if you did try it at home, Anastasia Totty, an educator at LeChat Nails told Bustle, "It ... could end up being costly."
There are many ways to go about this nail trend, but what sets it apart is what nail artist Fleury Rose called the "lit-from-within effect" (via Glamour). "There are different techniques out there, but mainly it entails layers of opal gel polish, or opal powder with layers of holo film to create a stunning effect. The entire thing is encapsulated with clear gel," Rose explained to Glamour.
Keep things warm with velvet nails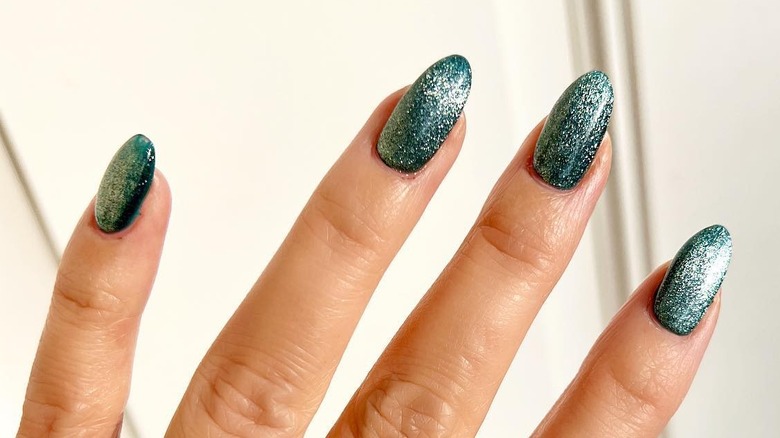 The name of this nail trend comes from the festive and warm fabric: velvet. As Glamour reported, the trend first gained traction thanks to Los Angeles-based nail artist Amy Le, who took to Instagram to show off her velvety nails as she moved her hands under the sunlight. This trend has gone through numerous iterations featuring different colors, but all maintain the soft look of the woven fabric. Despite the name, though, these nails don't have the texture of velvet (per Glamour). Though the thought of velvet-textured nails does sound kind of interesting, we'll leave it up to the experimental nail artists to surprise us with that possibility down the line.
Le's signature green velvet manicure is undoubtedly a great choice for the holidays, but you can always try an icier look by going with a silver base color or an eye-popping cobalt blue.
Shine bright with a dusting of diamonds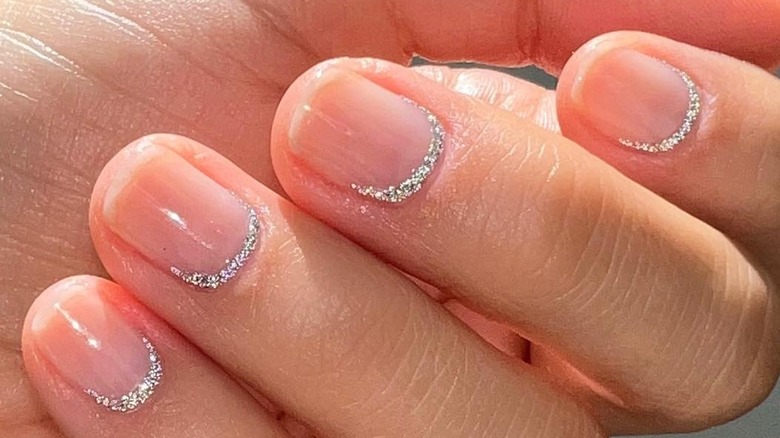 The show-stopping looks of the MET Gala are meticulously curated before attendees arrive. It often takes teams of people and weeks of collaboration for a celebrity to achieve a look that fits the theme. And as with all great red carpet looks, one must pay attention to every detail. Of course, hair and makeup are a given, but one can't skip out on the nails, either.
Even amid all the glitz and glamour, this beautiful diamond dust cuff design sported by Julia Garner stood out during the September 2021 MET Gala. The minimalistic look was created by Chanel nail artist Bettina Goldstein. She used a sheer pink polish for the base, topped off with a line of silver glitter along the lower edge of the nail, in somewhat of a reverse French manicure. This look is perfect for those who like just a little sparkle.
Keep it sweet with candy cane nails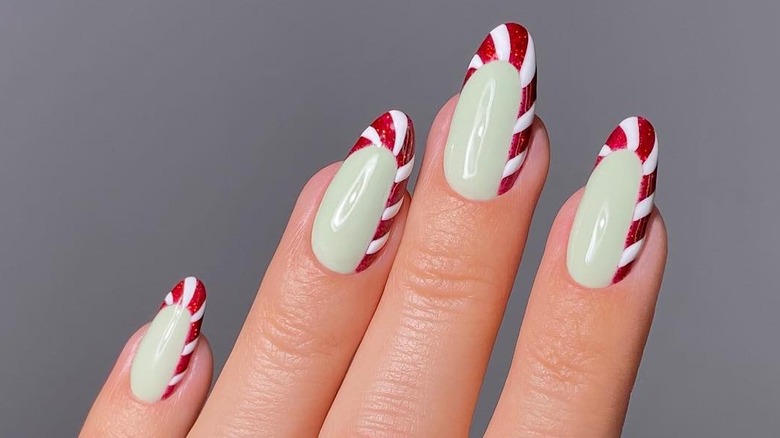 We wouldn't blame anyone for going a more festive route with their nail art come the holiday season. And luckily, there are many takes on holiday nails for you to choose from. While candy cane nails might sound like they border kitschy territory, fret not — this look can be equal parts sweet and adorable.
Take inspiration from Tiktok user Bornprettyofficial, who went for a look dubbed "reflective candy cane." This minimalist approach doesn't take candy canes literally, as glitter and swirl patterns are used to achieve a unique Christmas look.
Now, if you do want to display actual candy canes on your nails, you can switch up the French tip with a fun candy cane twist. Instagram user Heygreatnails gives off immaculate Christmas vibes with her mint green and candy cane French tip look. To personalize the look, you can choose different base colors and trade the mint green for a nice white polish.
Add a layer of sparkle to any manicure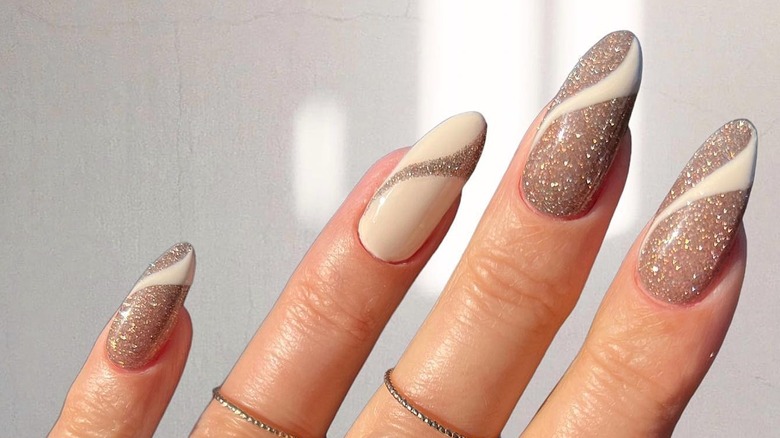 We just can't resist a good sparkle. It's such a foolproof way to add that extra pizzazz to any manicure, and you can't go wrong once you find the right nail polish shade. According to InStyle, when selecting a glitter polish, you should take note of the type of sparkle effect you'd like and whether or not you want a colored base.
You can add the glitter polish of your choice to a plain base color or layer it over another nail art trend like swirl nails or a classic French manicure. It's also a great way to change up your nail look at the last minute. For example, if you applied nail polish a couple of days before and got bored with it before it even started to chip, why not swipe on a sparkly top coat and be on your way?
Give your nails some dimension with a holo chrome ombré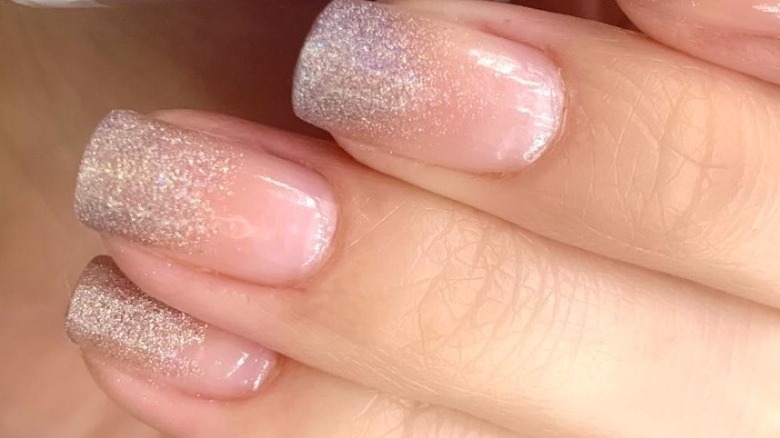 Good news for anyone going the DIY nail route! This look can be done with or without gel, and it's pretty easy to pull off with a little practice and minimal tools. Hannah Lee did us all a favor when she shared a straightforward how-to video on Youtube. She pulled off this holo chrome ombré look with just three products: a sheer base coat, holo chrome powder, and a makeup sponge. It's all about dabbing the chrome powder lightly on the tips of a slightly wet nail base and blending toward the cuticle until you get your desired effect. It's a fun DIY self-care project you can do while off for the holidays.
Lee recommends the Indigo Nails' Holo Manix Powder, but the famous OPI Tin Man Can is another great chrome powder to consider. As a bonus, you can use the same product to achieve the glazed donut manicure.
A twist on the classic – sliced French tips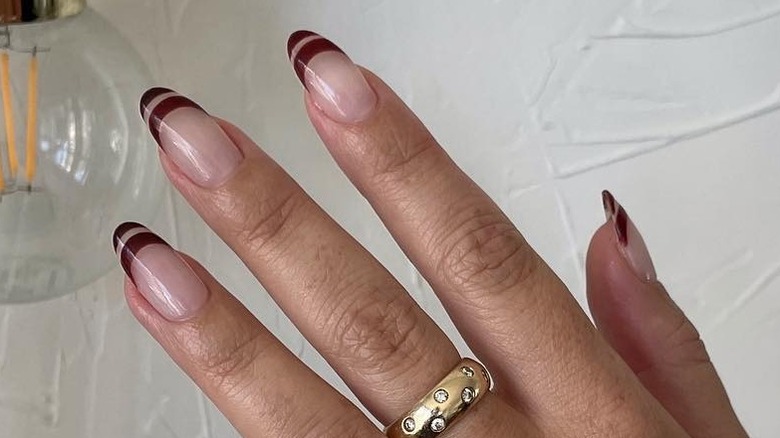 The classic French tip has gone through several variations through the years. Sliced French tips, also known as the double French manicure, is a particularly stunning version. Like any great take on nail art — or any form of art, really — it's sure to get people talking.
Though the nail art trend is more commonly seen on long nails, you can still get a nice sliced french look without the length. You can also choose the traditional route of using just one color, with negative space in between, or you can opt to use two colors for your French tip if you want to mix and match.
What's great about sliced French tips is that you can get your manicure done professionally or just do it on your own. If you choose to do it at home, all you need to guide you is some nail tape (via Byrdie).