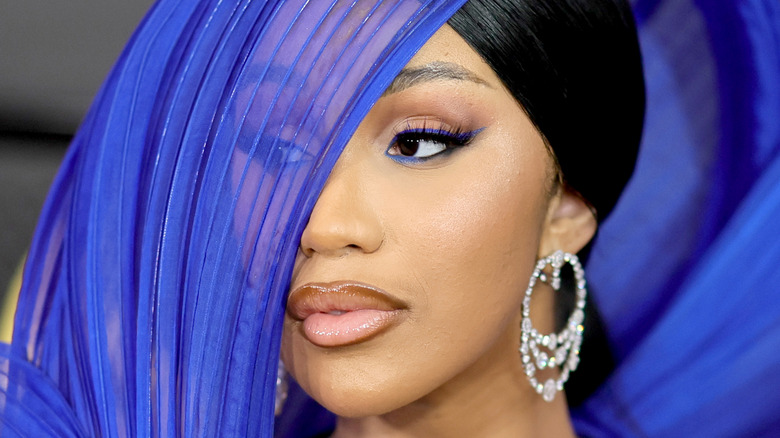 If you still remember Meryl Streep's "cerulean blue" monologue in "The Devil Wears Prada," then you'll be excited for this 2023 fashion trend. You may have noticed that the state of fashion today is undergoing a blue takeover, in light of the rise in rich jewel tones appearing on garments, shoes, and fashion accessories. People have officially swapped out their pastel and neutral styles for a more vivid fashion sense, with bright shades of green and pink dominating this style shift so far. However, blue has been slowly climbing to the top of the fashion trend since the beginning of this year, with a significant spike in popularity as of late.
According to a trend analysis from Vogue, an increased level of "Pacific Ocean blue" appeared in designers' 2023 collections. It has since captured the fashion industry with swiftness, with recent examples of the new color trend popping up in mainstream media. Shades of blue dominated the red carpet at the 2023 Grammy Awards, from Taylor Swift's midnight-colored matching separates by Roberto Cavalli to Cardi B's sculptural blue gown by Gaurav Gupta. Additionally, Burberry's new creative director, Daniel Lee, made the decision to relaunch the British heritage brand's very first logo on its official Instagram page: a royal blue equestrian knight. This specific color and logo were also used throughout Lee's premiere collection as head of Burberry.
It's safe to say that blue clothing is the MVP (most valuable purchase) for fashion enthusiasts in 2023.
The power of signature colors
Blue's grip on today's fashion is predicated on a larger trend of using vivid colors in garment making. For designers at prominent fashion houses, adopting a signature color helps them stand out from the competition since the color becomes associated with their label, even if another fashion house or high-street brand is using it. Two notable examples of this are Bottega Green (a bright shade of green popularized by Daniel Lee while he was creative director at Bottega Veneta) and Pierpaolo Piccioli's hot pink at Valentino.
Bottega Green existed as an anomaly in 2021, whereas Valentino's hot pink coincided with a growing interest in the upcoming "Barbie" film, starring Margot Robbie and Ryan Gosling. The fashion brand and the high-profile film worked together like alchemy, creating an overwhelming demand for the Barbiecore fashion trend last year.
Now that Lee revealed his first collection as Burberry's creative director, complete with the same royal blue used in the British fashion brand's newly revived logo, it's safe to assume that the bluish hue will be as popular in 2023 as Barbiecore was in 2022.
Everyone is dressing for dopamine boost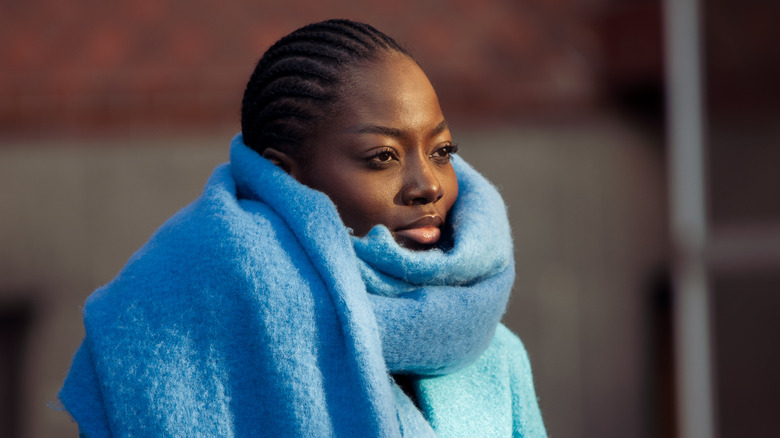 It would be a misstep to speak on the popularization of bright colors in our wardrobes without mentioning the popular street-style trend that is dopamine dressing. It's a mood-boosting practice that entails dressing in bright colors or in alignment with your innermost self, in order to hack your psyche and subconsciously feel happier. The approach has been around for decades but entered the zeitgeist during 2020's lockdown when people were looking to tap into the benefits of color therapy.
Research gathered by Verywell Mind indicates that blue positively affects our mood and invokes feelings of safety and calmness. By wearing the color we lower anxiety and appear more confident to others. This varies between shades, with darker hues of blue appearing more loyal and lighter shades appearing more high-spirited. If dressing in a particular style or color can trick you into feeling or behaving in a desired way, then perhaps the current popularity of blue indicates that we're hoping to cultivate a sense of safety and calm today in our rapidly changing world.