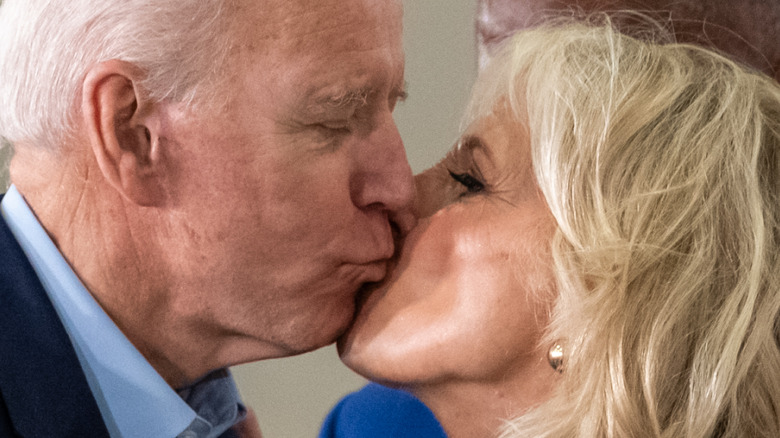 President Joe Biden and first lady Dr. Jill Biden appear to enjoy a close relationship with each other. If you know anything about the Bidens, you're probably aware that Joe lost his first wife, Neilia Hunter Biden, and young daughter, Naomi, in a car accident shortly before Christmas in 1972 (via Biography). The couple's young sons, Beau and Hunter, survived the wreck. The accident came shortly after Joe became the second-youngest person ever elected as a U.S. senator. He had a new job to learn while also dealing with significant personal tragedy and raising his two young sons alone. He famously swore on the Bible, taking his oath of office in the hospital where his sons recovered from their injuries (via the United States Senate).
Although what by all accounts was a storybook romance that ended in terrible heartbreak, in 1975, Joe met a particular University of Delaware student, and his life took an unexpected turn, all thanks to a blind date.
Here's who Joe Biden has to thank for meeting Jill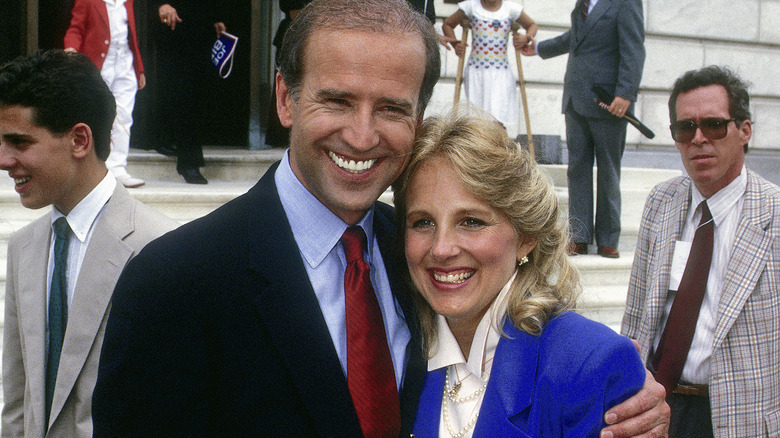 Joe Biden has his brother, Frank, to thank for meeting his future wife, according to Harper's Bazaar. When Biden called Jill (née Jacobs) in 1975, she said, "How did you get this number?" Interestingly, Joe asked Jill to break her date with another man to go out with him, and she decided to take the chance. She'd been married to Bill Stevenson, and they divorced during her junior year in college after drifting apart. On their first date, Joe took Jill to see "A Man and a Woman" in Philadelphia, and despite her initial misgivings due to his sports coat, they hit it off (via Town & Country).
Of course, Jill wasn't quite as ready to jump into another marriage, which led Joe to ask her to marry him a surprising five times. "By that time, of course, I had fallen in love with the boys, and I really felt that this marriage had to work," Jill Biden told Vogue in 2016. "Because they had lost their mom, and I couldn't have them lose another mother. So I had to be 100 percent sure." Ultimately, the couple married at the United Nations Chapel in New York City on June 17, 1977 (via Town & Country). Together they raised his sons and their daughter Ashley, whom they welcomed to the family in 1981. Since then, they've led a public life, eventually serving as vice president and the second lady (2009-17) and now as president and first lady.