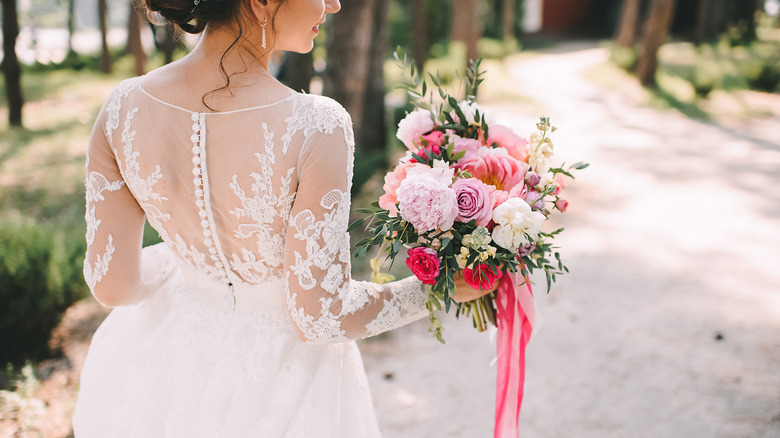 Planning your wedding is one of your life's most memorable (and stressful) times. The excitement of spending forever with your partner fills you with joy, while the pressure of ensuring every detail is perfect can weigh down on even the most prepared, type-A bride. But no matter how stressed out you are about the guest list or the floral arrangements, allow yourself to enjoy every moment of shopping for your perfect wedding dress.
Saying yes to the dress is a huge deal and one you deserve to feel good about. It's easy to feel overwhelmed when looking through all the different types of wedding dresses; WeddingWire recommends that brides do their research before going dress shopping, so they have an idea of what styles and silhouettes they're most interested in. A tasteful gown covered in lace is one of the most popular wedding dress styles. A classic lace wedding dress looks great on everyone and perfectly captures the bridal essence. If you're in the market for a lace dress, you may wonder how to style it. Luckily, we've found the eight best ways to elevate your lace gown with bridal accessories from your head to your toes.
A gorgeous textured veil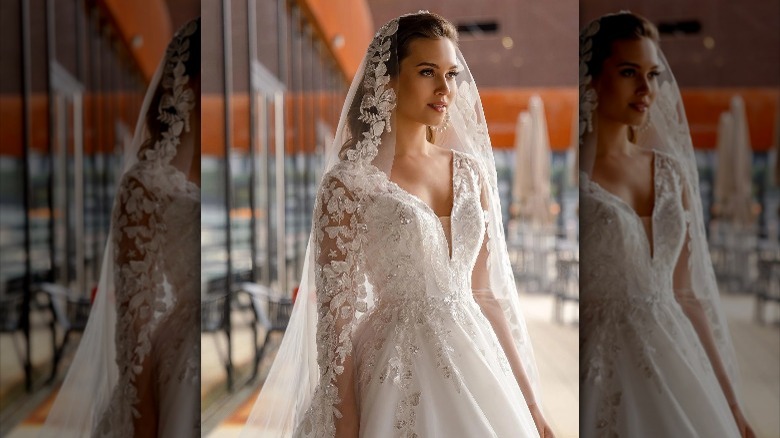 When it comes to lace, the more, the merrier! If you love the lacy details on your wedding dress, complement them with a veil that has a similar design. This layering of lace will add dimension to your look while highlighting the gorgeous dainty patterns woven into your gown. Your veil can be as long as you'd like — some brides enjoy a cathedral-length veil that drapes to the floor, while others enjoy a more playful short veil that cascades to their shoulders. No matter your size and style, a veil will always be a good choice.
A dazzling hair accessory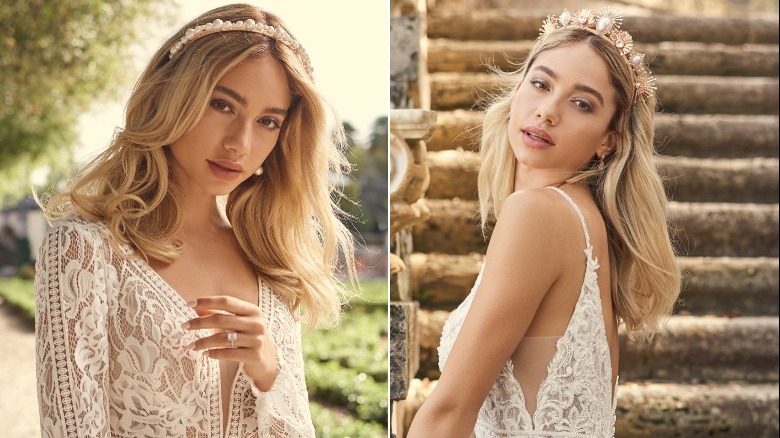 If veils aren't your thing, try a unique headpiece for extra sparkle on your big day. Live out your fairytale wedding fantasy by adding a tiara to your lace ensemble. If you aren't interested in playing royal for the day but still want a standout accessory, opt for a statement headband with gems or pearls. Pearl headbands are super trendy and will perfectly complement your wedding dress's lace details perfectly.
An adorable detachable bow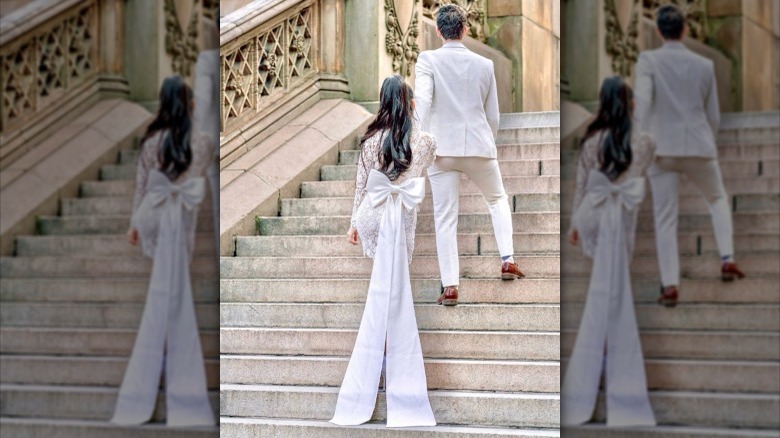 On your wedding day, wrap yourself up like the gift you are for your spouse-to-be with a detachable bow! Bows on gowns are all the rage right now, and a detachable bow will allow you to pick out any dress you want, knowing you can add on your personal flair. If you fell in love with a shorter lace dress but are still dying for that regal train to fall behind you, add a bow to the back of your dress for extra length and dimension.
A fashionable bridal cape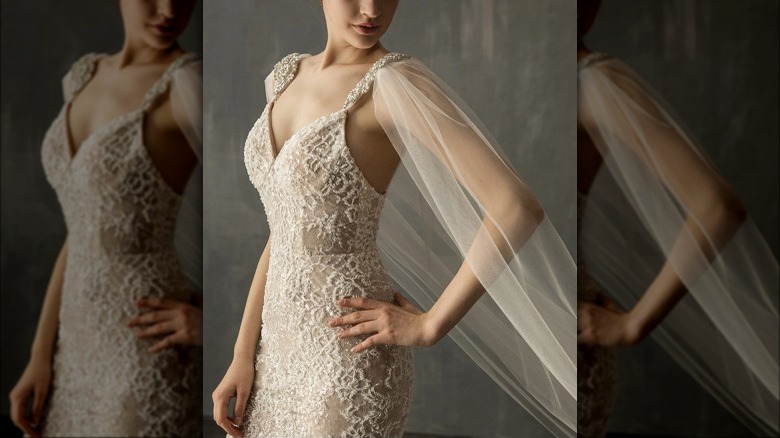 If you want the drama of a train without the hassle of bustling your gown all night, try pairing your gorgeous lace wedding dress with a bridal cape. These tasteful additions attach from the shoulders or top hem of a dress and cascade down, creating a stunning bridal silhouette. Whether you want to keep it simple with some chic white tulle or shine bright with ornate details and patterns, there's a cape style for every bride. Then shed your cape after the ceremony and dance the night away with your new spouse!
A shimmering belt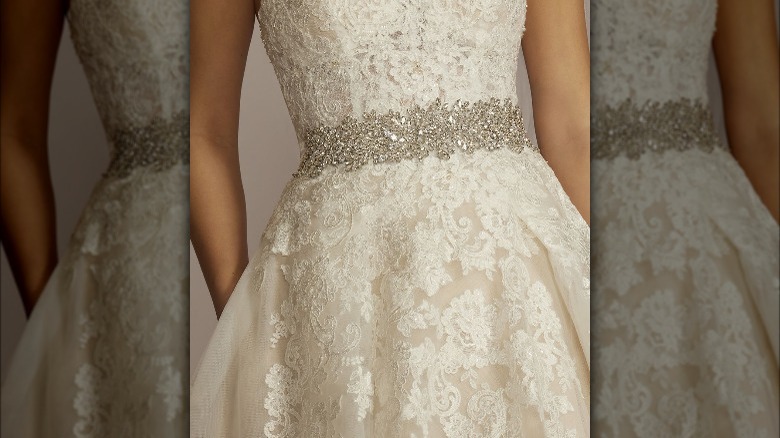 We all love a lace wedding dress, but even the most beautiful fabrics can use a little extra sparkle. If you're looking for that little extra something to take your dress from great to perfect, try adding a bejeweled belt or sash. The contrast of jewels on lace makes your dress all the more interesting, and the placement of a belt on your waistline will make you look extra snatched. You can also incorporate your wedding colors by adding a colorful ribbon to the back of your sash, tying in all the little details you worked so hard on.
A sparkling dress chain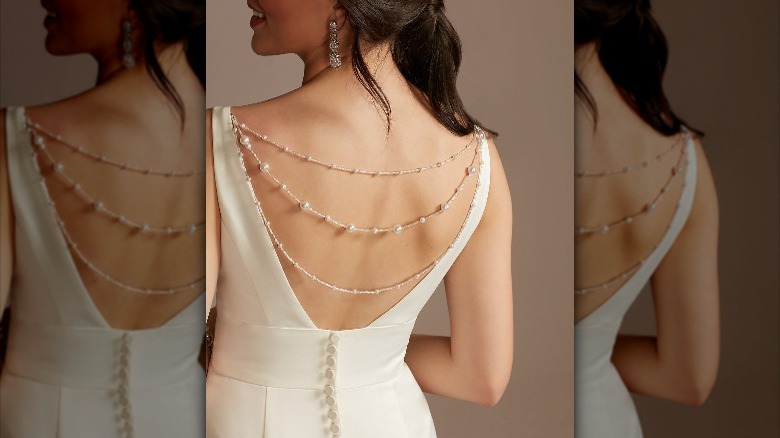 You're not a regular bride; you're a cool bride. Show off your trendy style with a dress chain. These unique accessories attach to the back of a wedding dress and drape across the shoulder blades, so the bride looks stunning at all angles. If traditional jewelry isn't enough, add more jewels to your backside with a gorgeous dress chain. But be careful that your hair doesn't get caught!
Bright and colorful shoes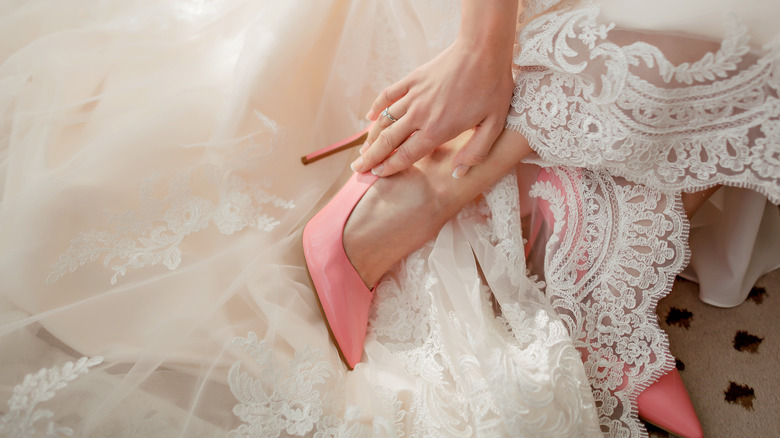 If wearing white isn't really your thing, or you are just missing your favorite color, try accessorizing your lace wedding dress with colorful details. Sometimes, a pop of color is exactly what you need to break up the sea of whites and creams on your wedding day. One of the best ways to add color is by wearing bright shoes. Honor your bridesmaids by wearing shoes that match their dresses, or rock a stunning blue heel down the aisle as your "something blue."You can also twin with your spouse-to-be on your wedding day by wearing colorful matching shoes — so cute!
Meaningful statement jewelry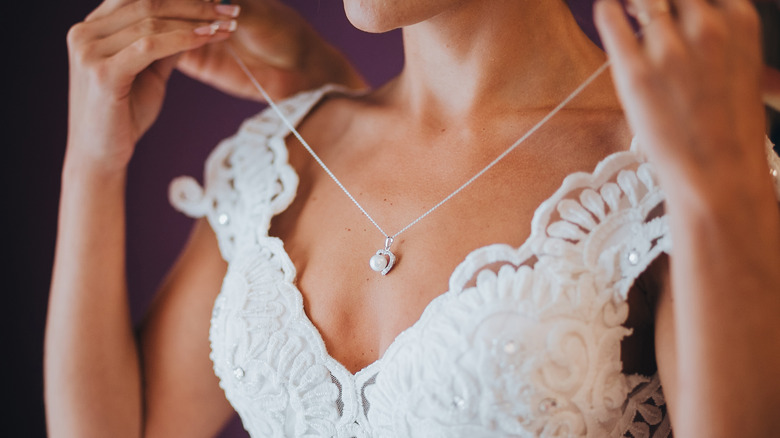 No bridal look is complete without jewelry. Take your lace wedding dress to the next level by adding accessories that mean something to you. The jewelry you wear on your wedding day is the perfect place to honor your loved ones by wearing family heirlooms or borrowing meaningful pieces from the ones you love. Of course, if you see a necklace or a bracelet, you absolutely love while shopping, you can always opt for a new accessory. It's your big day, after all!